WAR !
Oh it is mother fucking on. Round up the troops. Arm yourselves. It's time to show your loyalty to JALG and fight for once in your puny little life goddamnit.
Some very popular blogs which shall remain nameless(
boingboing
and
metafilter
) have recently posted to some bullshit cute "animal" blog. I'm not going to embarass anybody here by telling you what this bullshit blog is. It's
cuteoverload
, more like overload of bull.
Tangled Sailor
and I are having none of this. Domesticated animals. They're BRED to be cute. It's like genetically modified athletes.
This is a baby wombat. Ideal for hand to hand combat. His low center of gravity and razor sharp teeth allow him to effectively shred the tibia and fibia of poseur animal bloggers.
He can also be dropped from high altitudes, attatch himslef to an the head of an unsuspecting weenus and claw eyes like it's his fucking job.
Stealthfully slinking through the underbrush, the red panda, with his poison laced
tounge
, is right up on you before you know it.
He may look like he's sleeping because he has his eyes closed and whatnot but in reality he's visualizing the bloody defeat of his lame-ass opponent.
This mother giraffe actually suctions her baby's head and then catapults him into enemy territory where the lanky limby little guy goes whirling dirvish on his enemy.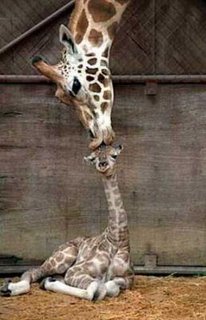 His little head on his long 'ol neck acts like a mace. Suckers get played when they mess with the giraffe.
Ma: "look at me. You might die out ther today. But you're dying for JALG and that's what matters."
Lil' guy: "I will fight with honor"
Ma: "You are a brave one."
Lil' guy: "I'm fighting for
the sloth
and
the racoon
and
those little pandas
and
owen and meze
and everyone else.
ma:"go get those fuckers"