FBF
Now, just because it's fan boize friday, doesn't mean the vote is over on
Pancakes or Waffles 6
. Biggup to fan bwoi
stupid haiku dude
for having the dopeblog with a SIAB haiku. I love you dude.
I'm having a little internet overload right now. You know when you can't do anything because you want to do everything and you don't have ADD but you are a "tangential thinker" and you drink "too much coffee". Yeah I got that.
PICS
Squirrel monkey curtesey of
Monki Brewster
.
His tail is all creeping up on him like a menacing serpent about to choke the poor sleepy little fella. Don't do it!!! Ahhhhhhhhhh.
Image-Shifter presents to us the Javalina. The beauty here is that this is not a mother son thing. This is an exact scaled down reproduction. They have a javalina xerox in back that can make poster size prints. It's pretty amazing.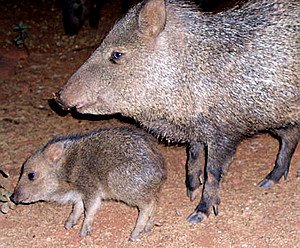 Plus the big one is straight up wearing high heals. Oooo, punish me.
Uh, this one's from
valerie
, who keeps trashing my house. It's a tazmanian devil. Now, we all have our Taz tattoos and we rememmber him fondly from the cartoons but that's not what they're really like.
They're actually vicious killers who are total meth heads. Awwww cute lttle tweaker (I learned that term in Portland, OR). PLUS, look at his little shoes. Or feet, or whatever you call 'em. Pitter patter. I've been up for 65 hours.
And this one's been killing me for weeks now. According to
Hawk Notary
, it's a lemur. But what the fuck?
Rubbermaid is right. This is the most bondage fetish gremlin bat looking west-village leather-freak of a lemur I've ever seen and believe me I've seen a perved out lemur or two in my day.
For the benefit of the reader: The author was goth in high-school and despite relentless humiliation from the author's "friends", he retains pride in his roots and recognizes that he was shaped by a culture, juvenile though it might be.
And need I get into that facial expression? Jesus pathetic teat-craving Christ. The vibe is as follows: he was behind the controls of some kind of super man-machine from which he ruled an empire with an iron fist. Having recently been ousted from those controls he now lives out his days in a tupperware box still drunk on the power he once had. Ewww.
There's a shit ton more of lemurs
here
.